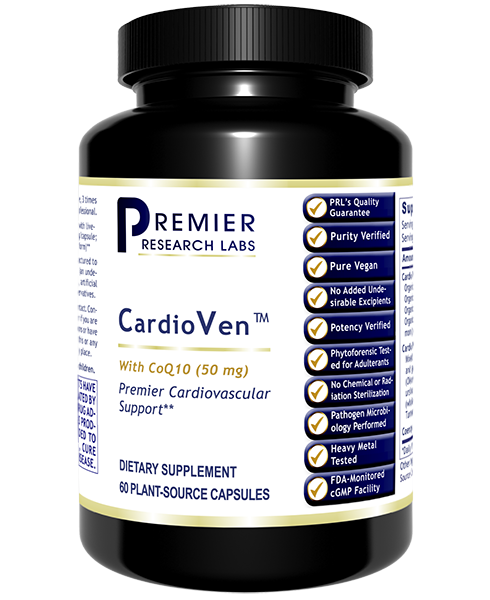 CardioVen™
Save

Liquid error (snippets/product-badge line 32): Computation results in '-Infinity'

%
Premier Cardiovascular Support*
Provides live-source, fermented CoQ10 in the trans isomer form (50 mg/capsule)
Features two nutraceutical blends of botanical agents for additional heart support*
Revision Number: R7.2
CardioVen™ is a targeted nutraceutical formula that promotes premier cardiovascular health.
This product features premier quality coenzyme Q-10 (50 mg/cap) which is derived from a natural fermentation process (not synthetic CoQ-10). This form of CoQ-10 is fat-soluble and is identical to the CoQ-10 that is naturally produced by cells in the body. Live-source, "trans" isomer CoQ-10 is preferred to synthetic, "cis" isomer CoQ-10 in long term use.
CoQ-10 is an essential nutrient that is a vital component of cellular energy production. CoQ-10 is an important part of the mitochondrial electron transport system and supplies cellular energy support to all cells of the body. CoQ-10 especially supports the heart muscle and other bodily tissues that have high energy needs.
CardioVen also features two key nutraceutical blends, Cardio PhytoEssence and Cardio Pro Essentials, which offer a broad range of biocompatible botanical agents with a complex phytochemical profile for additional nutritional support.
This product is often used concurrently with the HCL Support Trio.
Ingredients
Supplement Facts

Serving Size 1 Capsule
Servings Per Container 60
Cardio PhytoEssence™

185 mg

Organic Blueberry (fruit), Organic Rice Fiber, Organic Hawthorn Berry (Crataegus spp.), Organic Cayenne (fruit) (Capsicum annuum), Organic Beet (root) (Beta vulgaris), Cardamom (pod) (Elettaria cardamomum)

Cardio Pro Essentials™

172 mg

Mixed Tocotrienols (predominantly delta and gamma fractions), Organic Olive Leaf (Olea europaea), Bear Garlic (leaf) (Allium ursinum), Beta-Sitosterol, Organic Chlorella (whole cell) (Chlorella sorokiniana), Organic Turmeric (rhizome) (Curcuma longa)

Coenzyme Q10 (Ubiquinone)

50 mg
Other Ingredients: Tapioca Dextrin, Plant-Source Capsule (cellulose, water)
Recommended Usage
Take 1 capsule, 3 times daily or as directed by a health professional.