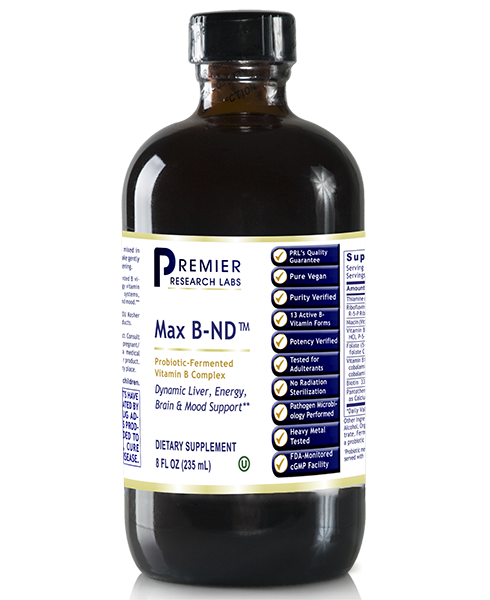 Max B-ND™
Save

Liquid error (snippets/product-badge line 32): Computation results in '-Infinity'

%
Probiotic-Fermented Vitamin B Complex
Part of our FERMEXCEL-100TM line of dietary supplements
Advanced support for liver, brain, energy and mood health*
Promotes adrenal, immune system, and cardiovascular system health*
Contains 13 active B-vitamin forms
Revision Number: R13.4
Do you feel fatigue or occasional stress from time to time? In this era of "more is more", many tasks can vie for your attention and pull you in different directions all too often. An overly busy lifestyle can actually be at the core of some health concerns. During times of stress, your body's capacity to adapt may be reduced without sufficient nutritional support. Supporting the system with Max B-ND™ offers advanced support for the liver, the brain, the immune system, adrenal glands, cardiovascular system, mood balance and energy levels.
Max B-NDTM is a nutritional industry first - with never before available probiotic-fermented B vitamins. This product contains a high-energy B vitamin complex that delivers premier nutritional support. Each 1/2 tsp. supplies high energy vitamin B forms including B5 as pantothenic acid, vitamin B2 in the riboflavin-5-phosphate form and more.
This B vitamin-rich formula offers advanced support for the liver, the immune system, adrenal glands, mood balance and energy levels.
Healthful diets with adequate folate may reduce a women's risk of having a child with a brain or spinal cord defect.
ND Technology™ (Novel Micro-cultured Delivery)
This premier quality formula is fermented using a unique probiotic culture which allows rapid oral delivery with superior bioenergetic properties. Many people say they can feel the effect of this product the very first time they take it.


Ingredients
Supplement Facts

Serving Size 1/2 Teaspoon (2.5 mL)
Servings Per Container 94
Thiamine (Vitamin B1as Thiamine HCl)

1 mg

Riboflavin (Vitamin B2) (including R-5-P Riboflavin-5-Phosphate)

1.6 mg

Niacin (Vitamin B3) (as Niacinamide)

30 mg

Vitamin B6 (including Pyridoxine HCl, P-5-P Pyridoxal-5-Phosphate)

3 mg

Folate (5-formyltetrahydrofolate Calcium)

1000 mcg

Vitamin B12 (including Adenosylcobalamin, Methylcobalamin, Hydroxycobalamin)

263 mcg

Biotin

334 mcg

Pantothenic Acid (Vitamin B5 as Calcium-d-Pantothenate)

3.3 mg
Other Ingredients: Purified Water, Organic Cane Alcohol, Organic Molasses, Sea Mineral Concentrate, Fermented Probiotic Media (fermented in a probiotic culture)1

1Probiotic media inactivated after fermentation; preserved with organic cane alcohol
Recommended Usage
Take 1/2 teaspoon mixed in 1/4 cup water or juice, once daily. Shake gently before use. Refrigerate after opening.