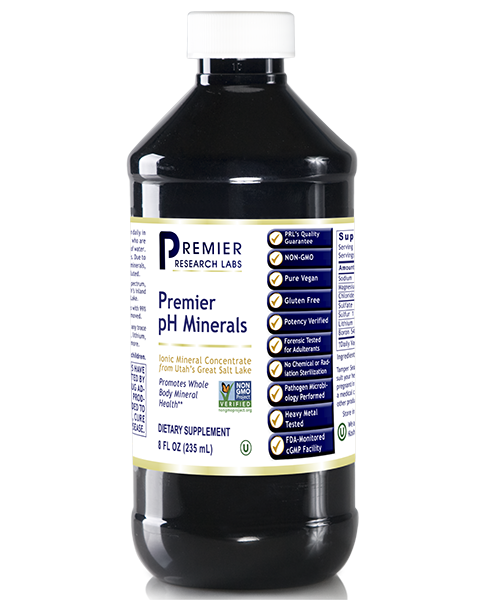 pH Minerals, Premier (8 oz)
Save

Liquid error (snippets/product-badge line 32): Computation results in '-Infinity'

%
Promotes Whole Body Mineral Health*
Ionic mineral concentrate from Utah's Great Salt Lake
Potent, broad-spectrum source of ionic pH balancing minerals with 99% sodium removed
Rich in ionic magnesium and many trace minerals, including sulphur, boron, lithium, and more
Dietary Supplement
Ionic Mineral Concentrate
from Utah's Great Salt Lake
Promotes Whole-Body Mineral Health
8 fl oz / bottle
Revision Number: R3.17
Premier pH Minerals is a broad spectrum liquid concentrate from Utah's Great Salt Lake minerals. It contains an electrochemically charged source of minerals that naturally provides a good source of magnesium. This unique mineral product is derived by a proprietary sun-evaporation process which reduces sodium levels, leaving a perfect mineral concentrate for outstanding mineral support. Minerals are essential for good health although the body cannot produce them. Minerals must be consumed in the diet or taken in supplemental form.
Ingredients
Serving Size 1/2 Teaspoon (2.5 mL)
Servings Per Container 94
Magnesium

195 mg

Chloride

620 mg

Sodium

20 mg

Potassium

25 mg

Sulfate

50 mg

Sulfur

2 mg

Lithium

1,220 mcg

Boron

540 mcg
Ingredients: Ionic Trace Mineral Concentrate
99% sodium removed
Recommended Usage
Take 1/4 teaspoon daily in 1 liter of juice or water. For those who are sensitive, dilute 1/4 tsp. in 2 liters of water. May also be taken in soups and foods. Due to the concentrated nature of these minerals, do not take undiluted.