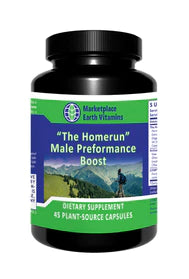 Male Enhancement Vitamins- "The Homerun" Male Performance Boost
As many of you know, Male Enhancement Vitamins have exploded onto the marketplace in recent years.  So, I decided to write this blog and share my opinions with you about this phenomenon and how to be careful.  The claim of most Male Enhancement Vitamins is extremely wide ranging.  Some claim that they can help men achieve an erection over time while others claim they will give men a instant erection.  I believe the best logic would be to try a few different brands and see what actually works best for you.  Remember, everyone is different and can react differently for many reasons.  Your healthcare professional may also help you in your decision making process.  Once you find a product that works for you make sure you examine all the ingredients listed on the package.  There are many good nutritional books and articles online that can give you some insight into how they function in your body and answer any questions you may have.  Remember, you want to achieve the best result possible with safe and effective products!  This will also help you and your healthcare professional to more intelligently discuss your vitamin and supplement goals.  Some Male Enhancement Vitamins are all organic and some are synthetically made.  Make sure you know what you are putting into your body so you can trust the products you choose.  Marketplace Earth Vitamins offers Male Enhancement Vitamins that we believe will be safe and effective for you that are all natural.  Safety is a major concern for us at Marketplace Earth Vitamins.  I bring safety up because as men become older they can be on several different prescription medications.  Prescription drugs and vitamin interaction need to be avoided at all cost.  Again, your health care professional can be a great resource to help you decide which Male Enhancement Vitamins are best suited for your body.  As men age testosterone levels drop making it difficult for many men to get and maintain an erection.  Viagra and many other prescription drugs may be prescribed by your doctor if they think it is safe for you to take.  However, these medications have side effects and do not work for everyone. Often they have very poor results and men end up trying organic supplements to help them find a solution.  Make sure to consider all your options when looking for the correct Male Enhancement Vitamins and supplements.  Good luck!
I hope this blog gives you some good thoughts about the choices you have in treating erectile dysfunction.  At Marketplace Earth Vitamins, we want to earn your trust and hope you will try all of our natural Male Enhancement Vitamins and supplements soon.  We believe we can offer you the best products at a good price. 
Please give us an opportunity to earn your business, you will be glad you did.
                  Try "The Homerun" Male Performance Boost!
                             www.marketplacevitamins.com